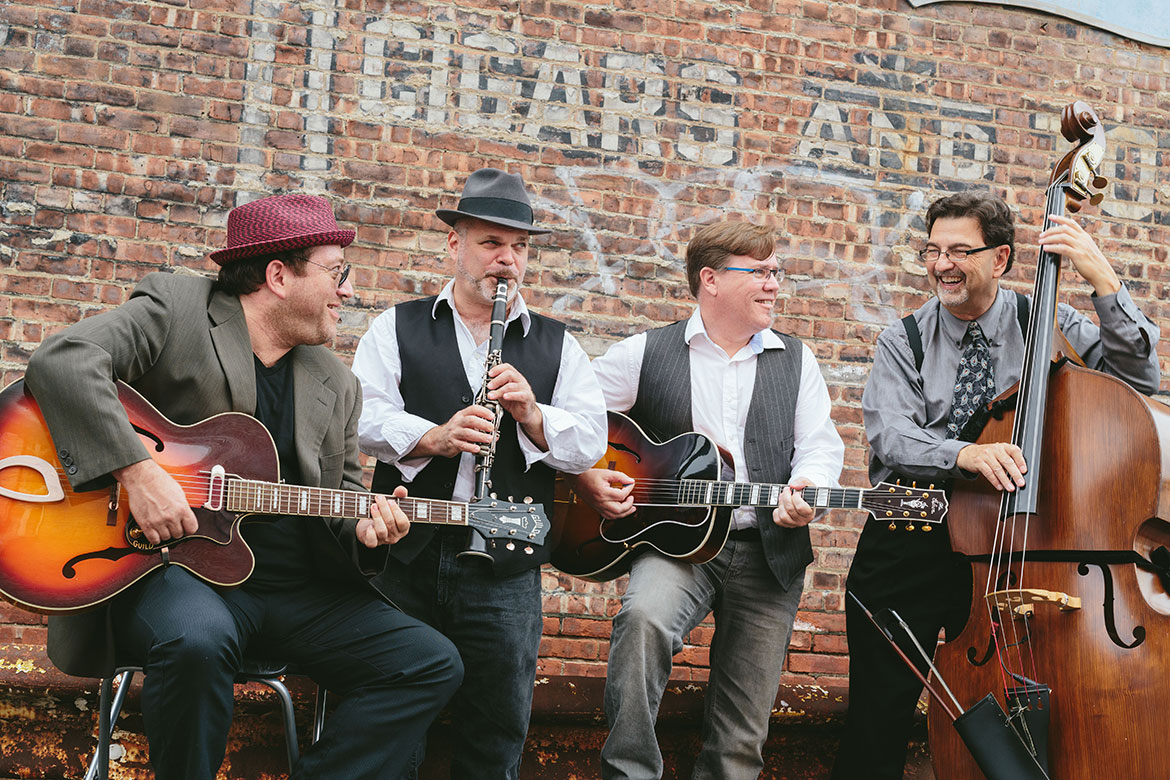 The Band
Swing Vipers infuses the timeless tunes of the early jazz era with a contemporary, gritty style of swing. As aficionados of great melody, we always honor the inherent beauty, art and story of each song while at the same time contributing our own rhythmic energy, updated interpretation and unconscious desire to dominate the world.
Whether you want to create the sophisticated atmosphere of a high-class speakeasy or the pulse and drive of a popular dance hall, Swing Vipers delivers the perfect musical mix of familiar melodies, surprising harmonies and hard-edged swing to make any event an extraordinary experience.
"Having come of age during the "swing revival"… I've seen and heard more than my fair share of bands. Swing Vipers ranks amongst the very best I've seen, bar none. Set after set, Swing Vipers maintained the vibe seamlessly and appropriately, always providing the exciting pulse of live music that is impossible to get with a DJ. They took requests with ease (they seem to know the entirety of the American Songbook), added the right ambiance, and provided the soundtrack for what many believe (not just the bride and groom), was one of the swankiest weddings ever!" – Writer/Producer John Bobey
"Swing Vipers' program showcased the 1920s-50s period perfectly – with a contemporary style that appealed to all ages. Excellent musicians, Delightful repertoire, Perfect instrumentation, Authentic vocalization, Flexible re: set-up (we'd had to change the location a week before the event!), Great value for what they gave us, Clear communication throughout, Accommodating to requests, Nice people, Relaxed – nobody too terribly serious. I guess you can tell I'm certainly recommending them … and would hire them again for their timeless music no matter the occasion." – Alix Beeney
Music
Shows
Upcoming Shows

Friday May 18th

8:00 - 11:00 pm

Swinging at Tapped Beer Bar

Tapped

22 Henry Street, Middletown, Orange County, New York 10940

Hot Acoustic Swing, cold beer, and great food. It doesn't get any better than that. This will be our first time at Tapped, so come on out and swing the night away with us.

Saturday May 19th

6:00 - 10:00 pm

Spirit of the Aerodrome 60th Anniversary Gala

9 Norton Rd., Red Hook, NY 1257

The Aerodrome turns 60! Come celebrate our Diamond Jubilee with daytime demonstrations and educational talks followed by our evening gala fundraiser, dinner and dancing. swing Vipers will start playing at 6:00pm

Saturday May 26th

5:00 - 8:00 pm

Swing Vipers at Clemson Brothers Brewery22 Cottage St, Middletown, NY 10940
Past Performances

Mar 10, 2018

8:00 - 10:30 pm

Swing Dance in Hurley,NYHurley Reformed Church
11 Main Street
Hurley,12443

Nov 18, 2017

4:00 - 7:00 pm

Private 100th Birthday PartyNew Paltz,NY

Nov 11, 2017

12:00 - 4:00 pm

Private Event99 Court St, Binghamton, NY 13901
Contact
Add the perfect mix of hip/sophistication to your next event.
Swing Vipers is available for club dates, corporate functions, parties, etc.For more information, or to drop us a line, email us at:
michael@swingvipers.com