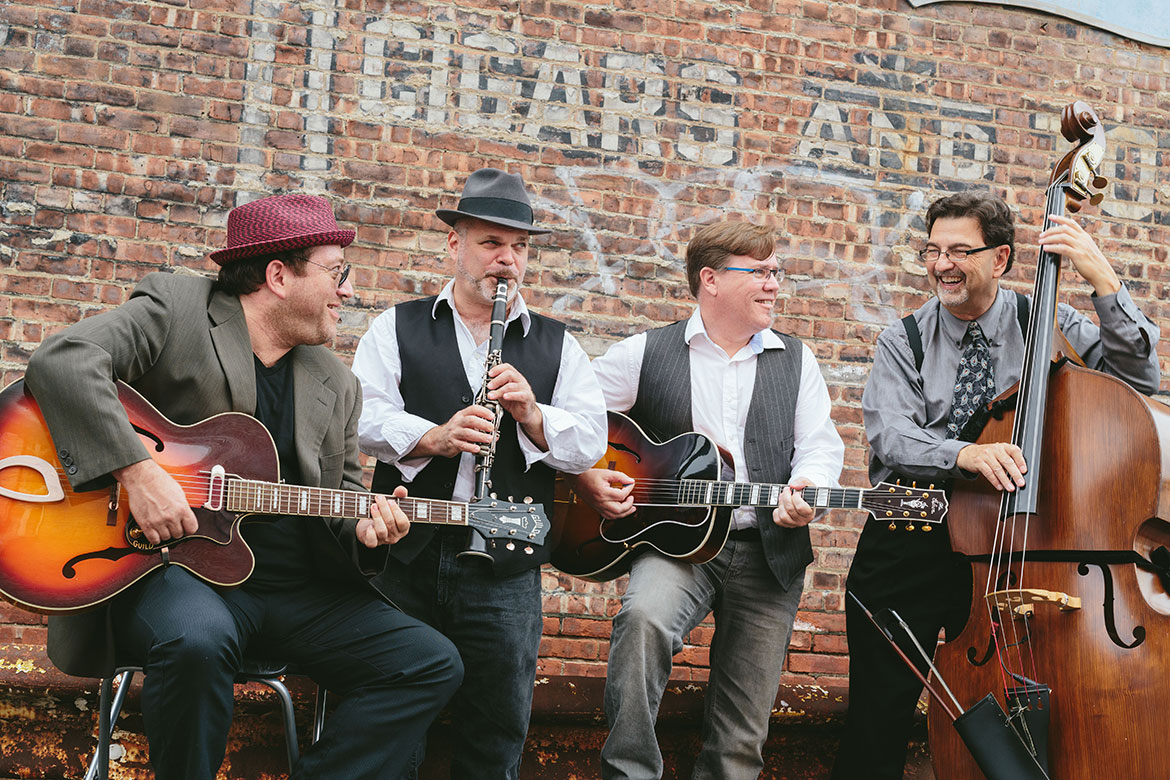 The Band
Michael Boyle

guitar

Michael Boyle has been playing guitar in and around the region for over 40 years. He played in various high school rock bands and eventually starting a Western Swing/Cajun band called Swing Shift with Frank Urbanovitch (fiddle player for the18-time Grammy award winning Jimmy Sturr Orchestra) that played in the area for a few years with great success. After Swing Shift disbanded, Michael was looking for a project that would incorporate his love for music from the 30s and 40s. Discovering the music of Django Reinhardt and the Hot Club of France opened a whole new musical world. Michael started to study with acclaimed jazz guitarist Frank Vignola (who has played with Les Paul, Mark O'Connor's Hot Swing Trio, David Grisman's Quintet, Tommy Emmanuel and Leon Redbone, to name a few). That eventually lead to Michael starting Metropolitan Hot Club. It was in the Hot Club that Michael met and played with Aaron and Charles. Discovering a common appreciation for old jazz harmonies and arrangements they decided to explore that common ground and that's how Swing Vipers came to be.

Charles Frommer

clarinet, sax, bass, vocals

Charles Frommer began playing professionally while still in high school in Bloomington Indiana. After studying with Ran Blake at the Third Stream Studies program at New England Conservatory he continued working in Boston for ten years and then moved to New York, where he has done varied work in jazz, rock, blues, on and off Broadway shows and tours, and radio, television and film work. Having made the Hudson Valley home base since 1997, he began performing with the Metropolitan Hot Club on select gigs after a spontaneous guest appearance in High Falls. His lifelong affinity for the music of the early jazz age and swing era resulted in a happy and rewarding continuing association with the Hot Club, and made membership in the Swing Vipers a natural fit.

Aaron Lieberman

guitar and vocals

Having provided the Metropolitan Hot Club with solid swinging rhythm guitar playing and an endless supply of tasty solos since 2007, Aaron's founding membership in the Swing Vipers was an obvious choice. Happily, Aaron agreed, and in addition to his guitar skills he has brought his special vocal talent into the mix.

Aaron received his Bachelors of Music degree in jazz guitar from Manhattan School of Music. During that time, he helped to form the rock band, God Street Wine. During their 11-year run, God Street Wine recorded three major label albums and toured extensively throughout the United States, Canada, and Europe, sharing the stage with artists such as Bob Dylan, The Allman Brothers, and The Black Crowes. Since that time, Aaron has enjoyed playing many different styles of music, including rock, jazz, and even klezmer, and has written and/or performed with various artists in and around New York City.

Lou Pappas

bass

Bassist Lou Pappas' career encompasses both Jazz and Classical music. After beginning with orchestras in Colorado and Oklahoma, he moved to New York to accept the position as bassist with the United States Military Academy Band at West Point, from which he retired in 2006. Since then, Mr. Pappas has kept a steady pace of performance with many groups in the New York area, such as the Hudson Valley Philharmonic, Taconic Opera Company, and the Woodstock Chamber Orchestra. His jazz work includes freelancing with a number of groups from Albany to Woodstock, New York City, Connecticut and New Jersey; including performances with such jazz greats as David Liebman, Byron Stripling, Randy Brecker, Steve Turre, James Williams, Claire Fischer, Chris Flory, Dennis Mackrel, Billy Cobham, and fellow bassist John Clayton. In addition to his playing schedule, he has been teaching private and college level bass for over 40 years, just recently retiring from Vassar College and the State University of New York at New Paltz.